SINDKHED-RAJA FORT
BIRTH PLACE OF RASHTRA-MATA JIJAU
Tal. SINDKHED-RAJA . Dist. Buldana


RASHTRA MATA JIJAU SAHEB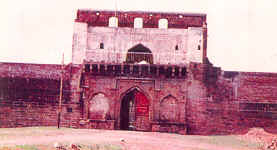 SINDKHED RAJA FORT
It is situated 32 miles to the south-west of Mehakar, this village derived its name, it is said, from the king Sindurama who is said to have founded it. Another derivation of the name is from Siddha Kshetra, i.e. a village of saints. However, it appears that the village probably derived its name from the sindi trees in which it abounds.

MOTI TALAV
It is surrounded by good mango groves. There are two tanks to the west of the village, one of which has a lofty masonry embankment and supplied water for irrigation purposes to the fields below. It is known as MOTI TALAV and by its side now passes the Jalana-Sindkhed Raja road.

LAKHUJI'S PALACE
Lakhuji Jadhav's extensive palace, the birthplace of Jijabai, except for its massive gate of stone and bricks and underground chambers, lies in total ruins. Above the gate is a drum chamber(nagarkhana). The cells are reported to have been cleared of debris and silt about four to five years back. In the underground chambers, still in good condition was housed the basic training college for some time.

RANAGA MAHAL
Situated to the west of the town is Ranga Mahal, a building neglected and practically in ruins. The hall where Jijabai and Shahaji Bhosale as children indulged in the game of Rangpanchami, when Lakhuji Jadhav pronounced them as an excellent match for each other is still in good condition. It is supported on wooden pillars. The front has four open and two embedded pillars. Besides those pillars that line the front, there are two double open pillars and two similar pilasters in the wall. The bases as well as the capitals of the pillars bear fine specimens of carved wood work. The ceiling is of wooden planks and has a terrace. It seems that the upper story has collapsed. At present a primary school is housed in the hall.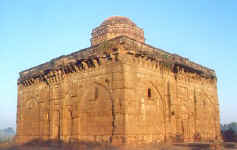 LAKHUJI JADHAV MEMORIAL
A memorial to Lakhuji Jadhav stands in the form of a masonry structure 40'*40' with a brick dome crowning the samadhi of Lakhuji right below which is also installed a linga. Two stairways on both sides of the main entrance lead up to the terrace. Of these one is blocked. The main entrance is flanked by impressive statues of lions depicted in the pose of killing elephants. To the right of the main entrance, is an illegible incription.
By the side of the tomb is a temple dedicated to Ramehvara with a ruined brick wall enclosure. The temple is said to have been built by Lakhuji Jadhav in response to his mother's wishes. It is a masonry construction with a brick shikhara. The upper portion of the temple is constructed in bricks. Facing the linga are two defaced Nandi statue. Some broken images of deities are scattered outside the enclosure. .