WORLD FAMOUS " AJANTA CAVES"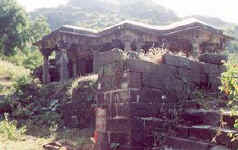 AJANTA CAVES

Ajanta caves are 60 kms away from Buldana, are the Ajanta caves. They were discovered by chance by a group of British officers, climbing the daunting slopes of the Sahyadris.

These Buddhist cave temples were excavated by the Buddhist monks and are characterized by a largesse of Chaityas and Vihars, used by the monks for prayers and rituals.

The caves date back in to the period, 200 BC to 650 AD. Some of the caves are unfinished, but mainly contain numerous images of Gautam Buddha in the form of sculptures and paintings, well known as 'Frescoes'. It is a protected monument under the Archaeological Survey of India and has been included in the World Heritage List of Monuments.

The bodhisatva Padmapani, is one of the highlights of these caves and is characterized by gentle eyes, delicate lips and a lotus held in a graceful hand. The monks were helped by the local artisans in the work of carving out the caves. Stories from the renowned Jataka tales are narrated in illustrative, on some of the panels.

These caves are rightly said to reflect the Panorama of life in ancient India. 

Caves 16 and 17 contain the finest paintings in Ajanta (The Padmapani). Caves 1, 2, 4, 6, 7, 8, 9, 10, 19, 27, 28, 29, also contain paintings and sculptures not worth missing.

Getting there:
By Air : Nearest airport is Aurangabad 108 kms.

By Rail : Jalgaon 58 kms. on Central Railway is a convenient railhead.

By Road :
Buldana - Ajanta 60 kms.
Mumbai - Ajanta 491 kms. via Jalgaon.,
Mumbai - Ajanta 499 kms. via Pune.
State Transport and luxury buses run from Buldana , Aurangabad and Jalgaon to Ajanta. 

Reservation: Ajanta, Aurangabad Fardapur.
Accommodation: A choice of single [2 blocks] and double [2 blocks] self-contained rooms.