Shri Kshetra Wari Hanuman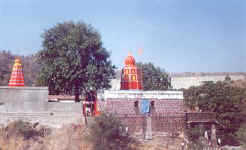 On the bank of river "wan" in Wari there is ancient Hanuman Temple. This temple is setup/founded by Samantha Ramadasa Swami.

In nearby area of temple Maharashatra Govt. constructed dam on river "Wan" known as " Wan Prakalpa"

This place is situated on common( likely ) boundaries of District of Maharashatra ( Akola, Amravati, Buldana) and Madhya Pradesh( East Nimar).