TARAPUR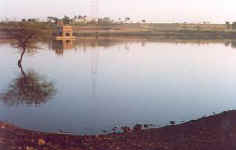 A deserted villege in the Chikhli Taluka, 8 miles north-east of Buldana.
Among the hills close to it is an old temple of Devi, which is much decayed and has partly fallen.

It faces the north and is built of old bricks upon a stone foundations.

It consists of a shrine and a mandapa with three door-ways, the
western one of which is now closed up with stone and mud.

The walls are plain. Attached to the front entrance is a verandah in which are placed some odd stone statues, among which are three of the seven mothers, viz., Vaishnavi, Shaivi and Brahmi one of Ganesh and one of a jogi.

There are inscriptions each in three lines in five different places in this temple, but they are illegible. One some of the stones are roughly inscribed pilgrims names.

An annual fair is held at the Navratra.