MASJID OF SAKHAR KHERDA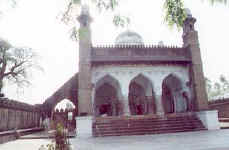 This mosque ( Masjid ) is resembling to a mosque at Rohinkhed built by Khudavand Khan Mahdavi.

It is situated on an elevated place in the town with a Persian inscription showing the date of its construction as 1581 A.D.

It has three arched facade and four free standing pillars.

The roof has a one central dome which stands upon an ornamental octagonal drum.

At the back of the mosque is small well built water-tank.

It is about 12 miles apart from Mehakar.