SAILANI DARGAH
Pimplegaon Sarai ( Sailani)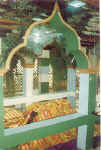 The villege lies on Chikhli-Dhad road and is abuot 15 miles from Chikhli.

The "dargah"where the "urus" is held is situated towards the west of Pimplegaon Sarai at a distance of about one mile.

The urus is held in honour of Sharif Sailani Shah Miya from Phalguna shud at villege Pimplegaon Sarai in Chikhli Tahsil.

Approximately 5,00,000 Pilgrims from the districts in vidharbha and Marathwada regions and from Jalgaon and Dhulia districts in Western Maharashtra attend the urus.

"Sharif Sailani Shah, it is said, hailed from northen India, most probably Delhi. On coming to Pimplegaon Sarai he cured many persons possed by evil elements.

His fame thereby spread all over the neighbouring districts and devotees started coming in large numbers for getting rid of evil elements.

The 'dargah' is said to have built when the Saint left this material world in 1908 and since then the 'urus is held to perpetuate his memory.

The main entrance to the "dargah" faces the north with an other door facing the south, which is used as exit.
It has sloped tin sheet roof. At the centre of the shrine there is the tomb of Sharif Shah Miya constructed in bricks and lime.

There is another tomb a furlong away to the east of the 'dargah' where Sharif Sailani Shah Miya died. This tomb is also covered with a tin shed.

The tomb is worshipped twice a day by burning 'lubhan' and offfering prayers. The tomb is washed with rose-water on every Friday and the water is distributed amongest the devotees. It is not customery to offer cooked food by way of'nayaz' though cooked food is sometimes offered by the devotees.

It is believed that the Saint is capable of showering blessings.

Promises of offerings to the Saint are, therefore , made with various motives, and on fulfilment of the desires, the things promised, such as 'galaf', sweets, etc., are offered.

Pilgrims of all casts and creeds attend the 'urus' which is held in phalgun month during this period approximately 5,00,000 persons attend. There are no programms except reciting of prayers, offering of coconuts, incense sticks, flowers,etc.
Private buses ply regularly between Chikhli and Dhad and extra buses run during the period of the "urus".

The nearest railway station is Malkapur on the Bombay-Calcutta main line of the Central Railway.

Pilgrims from the neighbouring villeges come by bullock-carts, or on foot.