BALLAL DEVI AMDAPUR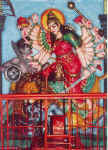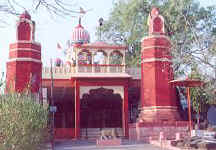 Amdapur is 14 miles to the west of Chikhali. Half a mile to the south of the village a fine temple dedicated to Bhavani known as Ballal Devi. There is an image of the Goddess bedaubed with red lead in the sanctuary which is curiously lit from above in such a way as to throw the full light on the image to the viewer seeing it only through the door panels, The mandap being nearly dark, the effect may be somewhat startling.

Near the aforementioned temple of Bhavani are some fragment of two colossal statues consisting of two pairs of feet, from which it appears that the statue must have stood about fifty feet high, Other fragments lying round the temple seen to point to the formal existence of an older building, Probably a Hemadpanti temple which is confirmed by local tradition.

From an inscription in another temple below the hill we learn that a person name Mangala, son of Bhaideva, built a toran for the temple constructed by Pedumanasethi, who was a resident of Ambadapur (Modern Amdapur). The inscription is dated in the Shaka year 1133 during the reign of the Yadava King Singhanadeva of Devagiri.